Healthy recipes of Mango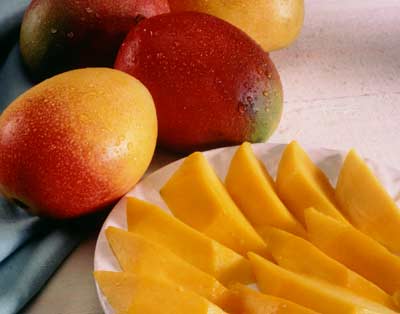 The fleshy and tasty fruit mango is quite nutritious. As per Ayurveda it balances all the three doshas and acts as an energizer. Mango is considered as the king of fruits. Ripe mango is sweet while the unripe one is sour, astringent and pungent.
Following are the food values of mango
-
Protein- 0.6%
Fat- 0.4%
Carbohydrates- 16.9%
Minerals- 0.4%
Fibre- 0.7%
Moisture- 81.0%
Calcium- 14 mg
Phosphorus- 16 mg
Iron- 1.3 mg
Vitamin C- 16 mg
Now following are some healthy recipes with mango
-
Phyto-Eats (Maca Noni) Banana Mango Smoothie
Recipe:
1 extra large mango
1 banana
1 cup soy milk or vanilla yogurt
1 tsp Phyto-Eats Maca Noni
1 tbsp agave
4 ice cubes
Prepare:
Add all ingredients to blender and press the pulse button until ingredients are smooth and liquid. Pour into glass and enjoy!
Phyto-Eats (Green Essentials) Pineapple Island Dream Smoothie

Recipe:
1 cup fresh pineapple
½ mango
1 banana
1 cup soy milk
1 tsp Phyto-Eats Green Essentials
1 tbsp honey
4 ice cubes

Prepare:
Add all ingredients to blender and press the pulse button until ingredients are smooth and liquid. Pour into glass and enjoy!



Source: http://ezinearticles.com/
http://www.pediatriconcall.com/